Venue
The Awaji Yumebutai International Conference Center (20-23, January 2020)
1 Yumebutai, Awaji City, Hyogo 656-2306 Japan (Official Website)
Osaka International Convention Center (Grand Cube Osaka) (24 January 2020)
5-3-51, Nakanoshima Kita-ku, Osaka 530-0005 Japan (Official Website)
The Awaji Yumebutai International Conference Center
The Awaji Yumebutai International Conference Center is a resort and conference center surrounded by a rich natural environment.
The exquisite surroundings nature will be a pleasure to discover in your free time between sessions. 

Along with the abundant natural assets, the area is rich in mythology, a virtual treasure house of cultural and historical heritage. Visiting these attractive sites will be one of your most impressive experiences in Awaji. The world famous architect Tadao Ando designed the unique conference center building.
"Awaji roof-tiles" are used for the circular roofs that cover the courtyard, as well as the corridor to the tea-ceremony houses. The modern design and surrounding beautiful scenery provide a rare example of nature and a man-made structure blending in perfect harmony.
Awaji Yumebutai International Conference Center
Address: 1 Yumebutai, Awaji City, Hyogo 656-2306 Japan
Phone: 81-799-74-1020
Official Website
Where is Awaji Island?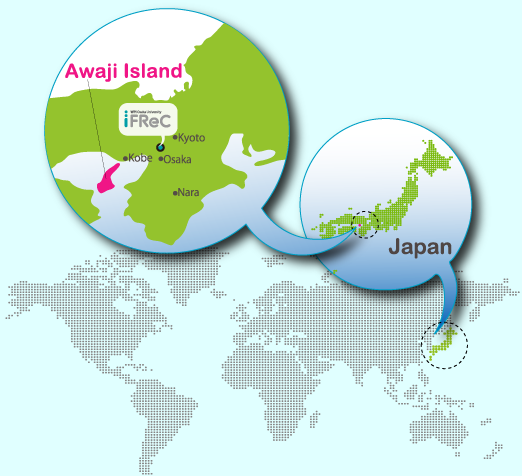 Awaji Island is part of a chain of islands on the eastern side of the Seto Inland Sea, and it is the biggest island found in this body of water.
Access to both Honshu and Shikoku is convenient since this island is linked to Honshu, the main island of Japan, by Akashi Kaikyo Bridge (longest suspension bridge in the world) and also to Shikoku by the Onaruto Bridge (Great Naruto Bridge). 
The Kuniumi Shinwa (birth-of-the-land mythology) in the Kojiki ("Records of Ancient Matters," a historical document of Japan completed during the Nara era) mentions that Awaji Island was the first island created in Japan and it indeed is one with a long history and tradition. An abundant variety of fresh seafood can be caught in the area and due to its mild climate; it is also a land well-suited for agriculture. 
The whirlpools of the Naruto Strait between Tokushima Prefecture and the southwestern side of Awaji Island occur due to difference in the way the tides ebb and flow in the Seto Inland Sea and in the Pacific Ocean. Some of the whirlpools grow to a size as big as 30 meters in diameter. 
There is an all-glass pedestrian overpass on the Onaruto Bridge's Awaji-side bridge beam that offers a view of the whirlpools from a height of 45 meters.