2019 Grand Copthorne Waterfront Hotel, Singapore (20-23 January 2019)
Overview of 2019 Round
The enthusiasm of the participants and the high scientific quality of the lectures made the 2019 NIF Winter School an extremely successful event. Throughout the days of the program, from 20th to 23rd January, lecturers and students shared intriguing insights and findings in immunology, discussed new ideas and forged friendships that fuelled networking and future collaborations.
This was the eighth year of the NIF Winter School – a partnership between the IFREC Institute in Japan and SIgN in Singapore - and the fourth time that was held in Singapore. The course selected a group of 47 excellent students from 17 different countries out of 73 applicants, and was able to attract a prominent international group of Immunology Faculty from the US (2), Europe (4), Japan (4) and Singapore (6).
The Grand Copthorne Waterfront Hotel located within easy reach of the Central Business District and the waterfront precincts of Robertson Quay, Clarke Quay and Boat Quay along Singapore River was an ideal environment for the school. There was also a chance to participants to explore Singapore during their free time to enjoy the local culture.
We hope that the Winter School experience made a strong impact in all participants, widened and deepened their understanding of immunology, created many new friendships, and furthered their commitment to excellence in scientific research.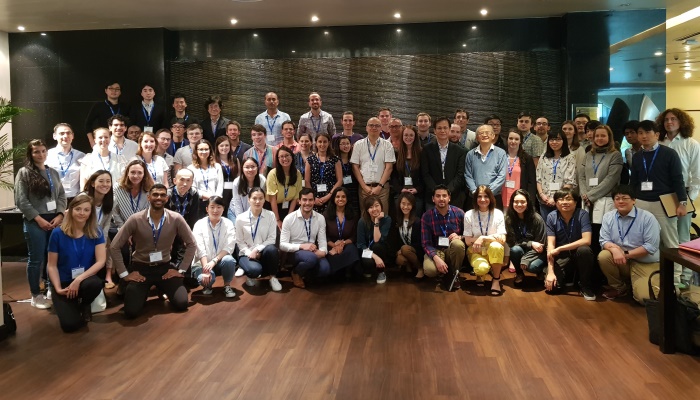 Date and Venue
20-23 January 2019
Grand Copthorne Waterfront Hotel, Singapore
Application and Selection
We received 73 applications for NIF 2019 Winter School from 25 countries. Organizing committee carefully shortlisted all applications and 47 applications were selected based on scientific excellence. Participants of 19 nationalities came from institutes & universities in 17 countries of 5 continents. 32 of them were advanced PhD students; 15 were early postdocs. 47% of the participants were female.
2019 Program
The scientific program comprised of 16 guest lectures, participants' short presentations and poster sessions. Each participant presented a poster during one of the poster sessions and gave a short oral presentation as well. The short talks and lectures were grouped according to the topic.
Lecturers
Shizuo AKIRA, IFReC, Japan
Veronique ANGELI, National University of Singapore, Singapore
Hisashi ARASE, IFReC, Japan
Marc BAJENOFF, Centre d'Immunologie de Marseille-Luminy, France
Burkhard BECHER, University of Zurich, Switzerland
Kenji KABASHIMA, Singapore Immunology Network, Singapore
Klaus KARJALAINEN, Nanyang Technological University, Singapore
Claudia KEMPER, National heart, Lung and Blood Institute (NIH), USA
Tomohiro KUROSAKI, IFReC, Japan
Claudia MAURI, University College London, UK
Lai Guan NG, Singapore Immunology Network, Singapore
Jeff RATHMELL, Vanderbilt Institute of Infection, Immunology, and inflammation, USA
Amit SINGHAL, Singapore Immunology Network, Singapore
Ashley ST JOHN, Duke-NUS, Singapore
Sho YAMASAKI, IFReC, Japan
Simon YONA, University of College London, UK

Presentation Award Laureates
Three "Best Presentation" prizes were awarded to:
Sebastiaan DE SCHEPPER, University of Leuven, Belgium
"Self-Maintaining Gut Macrophages are Essential For Intestinal Homeostasis"
Zhaoyuan LIU - Shanghai Institute of Immunology, China
"A universal fate mapper mouse model of blood circulating monocytes"
Simone PARK - University of Melbourne, Australia
"Tissue-resident Memory CD8+ T Cells Promote Melanoma-immune Equilibrium in Skin"

Messages from the Participants
"Very good overview of all immune cells, but would be good to have more balance in cell type/diseases"
"Everyone I interacted with were very friendly and impressive. I enjoyed the class very much."
"I had a great time & learned a lot! As the program is quite intense, it would be nice to have one social afternoon program during the Winter School, like a (guided) citytour. This would also be a great networking opportunity."
"Very clear communication leading up to the event. Very high quality."
"People discuss a lot, it's excellent!"
"Very talented and lovely people! I have a lot of great discussions in research and truly enjoyed my time in Singapore and NIF Winter School."
"All the people (organizing committee, faulty and assistances) were also super kind"
"I was in a Keystone Conference, Gorden Conference and in the Advanced school in immunology organized by AAI and this NIF School was the best one so far! The interection with faculty and colleagues was super nutritive. The selection of the works presented by assistants was perfect. I'm super happy to be part of this NIF 2019. Thanks!"
Organizing Committee
Laurent RÉNIA (SIgN) – Chair of the 2019 committee
Florent GINHOUX (SIgN) - committee member
Lisa NG (SIgN) - committee member
Siew Cheng WONG (SIgN) - committee member
Nicholas GASCOIGNE (NUS) - committee member
Christane RUEDL (NTU) - committee member
Photo Album